~~~~~~~~~~~~~~~~~~~~~~~~~~~~~~~~~~~~~~~~~~~~~~~~~~~~~

———————————————————————-
"Lee Krasner: The Umber Paintings, 1959-1962"
on view at Paul Kasmin Gallery
An exhibition of five major works from Krasner's Umber series is on view through

January 13

at the Paul Kasmin Gallery, 293 Tenth Avenue in Chelsea. The series consists of twenty-four paintings, eight of which are held in important institutional collections, including Moca LA, the Whitney Museum of American Art, the Australian National Gallery and the National Gallery of Art in Washington, DC.
  Lee Krasner, Seeded, 1960. Oil on canvas, 70 3/4 x 109 inches.
© The Pollock-Krasner Foundation / Artists Rights Society (ARS), New York.
Also known as Krasner's "Night Journeys," they represent a transitional period in her development, during which she was suffering from insomnia. Painting at night under artificial light, she limited her palette to earth tones applied with dynamic brushstrokes. Working in the barn studio that had been Pollock's, she was now able to paint large canvases. In addition to the increase in her work's size, this period was characterized by a further commitment to allover compositions, an emphasis on gesture, and the exploration of her emotional state.

———————————————————————-

Happy Birthday, Jackson Pollock!
January 28

will be the 105th anniversary of Pollock's birth. Born in Cody, Wyoming, in 1912, he was the youngest of LeRoy and Stella Pollock's five sons.
The family moved around the Southwest during his childhood, including two stays in Phoenix, Arizona, where his legacy is celebrated each January. Students from Elementary School District 1 will create Pollock-inspired artworks that will be on display at the FOUND:RE Hotel in February. Details in next month's newsletter.
The Pollock family in Phoenix, ca. 1914.
Left to right: LeRoy, Frank, Charles, Jackson, Jay, Sanford, Stella.


———————————————————————-
"Abstract Expressionism Behind the Iron Curtain"
now on view at the Steinberg Museum of Art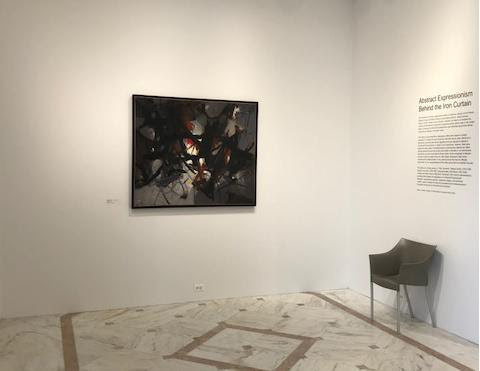 Battle, 1960, by Andrej Jemec in the exhibition at the Steinberg Museum of Art.
Organized by the Pollock-Krasner House and Study Center, where it was on view in August – October 2017, the exhibition of paintings by five artists working in Communist bloc countries during the Cold War is now at the Steinberg Museum of Art on Long Island University's C.W. Post campus through

April 10

.
Beginning

January 4

: Monday –

Friday

9:30-4:30
Beginning

January 22

: Monday –

Friday

9:30-4:30

,

Wednesday

9:30-8:00

, Saturday 11-2
Pollock-Krasner House and Study Center
A National Historic Landmark
The museum is closed for the season    
We will re-open on

Thursday, May 3, 2018

 
For information about exhibitions and programs, please visit our Web site.
For researcher access to Study Center collections, which are available year-round, please call 631-324-4929.
Have You Renewed / Joined Yet?
Your support is important to us! Pollock-Krasner House members are admitted free, receive discounts at the Museum Store, and help underwrite our exhibitions and public programs. If you haven't yet renewed, or would like to join for the first time,
membership is just a click away:

———————————————————————-

________________________________________________________________________
Find more like this: Bulletins, ELSEWHERE, Exhibits, Of Note